VoIP Citadel – Your Asterisk, VoIP & IP PBX Consultants
Consulting derived from real world experience and expertise driven by a results oriented customer service experience is VoIP Citadel.
We get it. We have seen the results and, unfortunately, routinely repair the results of VoIP gone wrong. Consisting of seasoned, well versed, veteran asterisk consultants in Seattle & Tacoma, Washington & Scottsdale, Arizona, VoIP Citadel has a proven track record established through implementation, repair and management of VoIP installations. Whether you have an Enterprise Sized Call Center in Seattle or a 5 seat office in New York, contact us today to see if we can help solve your VoIP problems.
You can view our current SIP trunking rates here
---
Latest News:
| | |
| --- | --- |
| Xorcom's Twin- Star Hot Failover Asterisk Solution | |
Xorcom's XR3000 is designed and manufacturer for the enterprise grade application. Featuring the ability to support up to 1,000 users and the only commercially supported hot failover solution on the market, Xorcoms XR3000 (pictured), XR2000 & XR1000 series IP PBX's offer hardware reliability unmatched in the VoIP arena.
Through the use of an external Astribank channel bank and USB connections interfacing with the servers, the XR Series PBX's allow you the ability to achieve hot failover without a huge amount of additional labor or hardware.
The servers communicate with each other via a private ethernet connection and achieve hot failover by use of the Astribank. The Astribank's can interfaces with your PSTN lines, regardless if they are Analog, PRI or even BRI. Add Trixbox or Elastix as Xorcom's GUI of choice and you have the most reliable asterisk solution currently available. If you would like further information from a certified Xorcom reseller about their hot failover solution please contact us.
While the primary server is active, the backup server is idle:

If the primary server goes offline, the backup server immediately picks up (less than 30 seconds):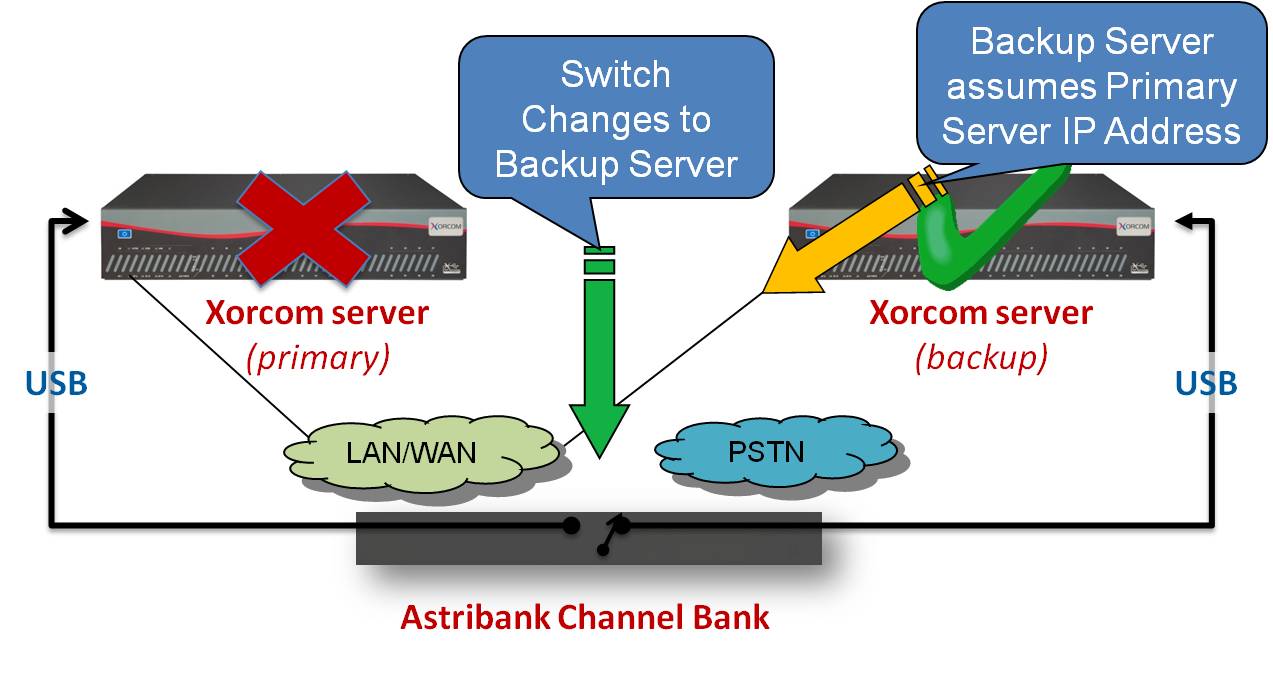 Contact Us today to see how we can implement a Custom or Xorcom High Availability Asterisk system!