Asterisk VoIP Consultants and Cloud PBX specialist
Consulting derived from real world experience.
Expertise accumulated from results.
A customer service oriented approach.
That is VoIP Citadel.

We get it.
We have seen the results and routinely repair the results of VoIP gone wrong. Consisting of seasoned, veteran asterisk consultants in Tacoma, Washington & Scottsdale, Arizona, VoIP Citadel has a proven track record established through results. Whether you have an Enterprise Sized Call Center in Seattle or a 5 seat office in New York, contact us today to see if we can help solve your VoIP problems!
VoIP Citadel specializes in support, sales, implementation, upgrades, repair and maintenance of cloud & premise PBXs.  Including FreePBX, PBXAct, PBX in a Flash, Thirdlane, and most other Asterisk open source IP PBXs.
Interested in a Cloud PBX?
Check out our Cloud Phone system features here!
You can view our current SIP trunking rates here
---
Latest VoIP Industry News:
| | |
| --- | --- |
| Algo 8028 SIP Door/Gate Phone | |
The Algo 8028 doorphone is an weatherproof/outdoor rated SIP intercom, designed to allow users of your Asterisk PBX to control access through a secured gate or door with the simple press of a button.
When a visitor presses the back-lit call button a single phone or a group of phones will be rang in the office. Once answered the occupants of the building are able to verify identity courtesy of the two-way communication with the visitor, after which they can dial the access code thereby granting the visitor access to the premises.
The doorphone can also be dialed directly from any user on the system to communicate with the visitor.
Typical implementation of an Algo Door Phone solution: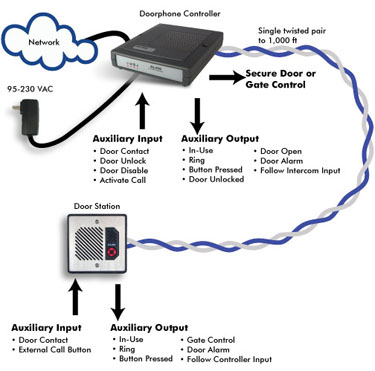 If you would like additional information about installing a Algo Door phone or have any questions please contact us!